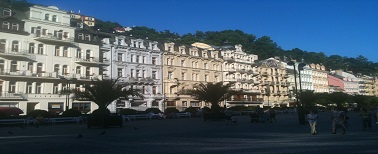 Karlovy Vary
Karlovy Vary has over 50,000 residents and has a groundarea of about 60 km². It has a significant spa center which was established under King Charles the IV. Karlovy Vary is unique due to its spa treatment and 14 mineral wells.
The center of the Karlovy Vary provides full comfort for anyone who is interested in:
Wellness
Culture
Social life
Evening entertainment
Sport
Karlovy Vary has three shopping centers, two of them are on the outskirts and one of them is directly in the spa part of the city as are two of the public spa houses.
In the city, symphony orchestras are very frequent. Karlovy Vary also has approximately three theatre performances during the week
Every year Karlovy Vary feasts International Film Festival.
---